Newsletter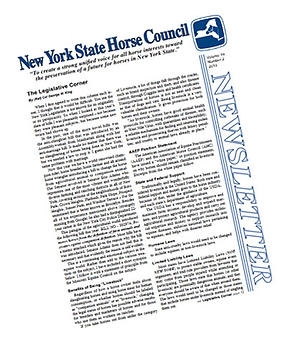 The New York State Horse Council Newsletter is a great way to get the word out about equine activities and initiatives. To make it successful and useful to all, the Newsletter Editor needs your input and is excited to share articles and pictures from all of our members.

Please E-mail text & photos for upcoming newsletters to the Newsletter Editor:
Sarah Collier
sarah.collier@nyshc.org
585-709-6076

- Issue 1 - January, February and March.
- Issue 2 - April, May, and June
- Issue 3 - July, August, and September
- Issue 4 - October, November and December
* DEADLINES: All reports and article must be submitted prior to issue first month