A Brief History of NYSHC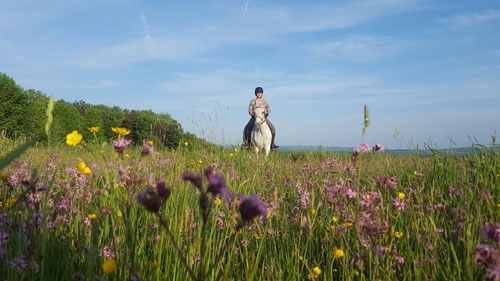 By Mary Ann Grammer Byers, N.Y.S.H.C. Historian
The organization was founded by a small group of dedicated horse people in Kingston, New York on April 30, 1966. Forty three horse clubs were represented and twelve thousand horse people. John Baruc facilitated incorporation as the Empire State Horsemen's Association in 1968. Our name was changed to the New York State Horse Council in 1976 to better align itself under the umbrella of the American Horse Council in Washington, D.C. It was one of the first councils of its kind and started the ball rolling for horse activities across the country.
Joseph Vanorio was the first president. During his tenure, he led the way in educating state legislators about the need for laboratory equipment at Cornell University's Veterinary College. The council was instrumental in gaining $2.5 million for Cornell. Mr. Vanorio later joined the Advisory Council Board of the Veterinary School at Cornell. In his early years Mr. Vanorio acted as a double for such movie stars as Tom Mix and Gary Cooper. He taught more than 10,000 equestrians, including 22 national champions while gaining tremendous respect in the industry as a show judge. At one time he was the only American Horse Show Association judge to be licensed in twenty-two divisions. The American Horse Show Association awarded him the lifetime honor of President Emeritus. Our Scholarship Program is named after Mr. Vanorio.
In September 1968 we sponsored with the cooperation of the New York State Department of Environmental Conservation (D.E.C) a fall pleasure ride on Columbus Day weekend at the Madison County Fairground in Brookfield New York. The purpose of the trail ride was to acquaint horsemen with trail facilities provided by the D.E.C in the state and to encourage good horsemanship on the trail. The ride also provided a means to bring together horsemen representing all segments of the horse world. Not only veteran trail riders but people from hunt clubs, horse shows, sheriff's posses and boarding stables took part in the ride. Under the guidance of the late Joseph Vanorio and Robert Nichols, D.V.M. it was the first large scale project of the council. The ride continues today.
On June 21, 1970 we sponsored the Trail of two Cities Ride from the Bronx to the Capital steps of Albany. The purpose was to recognize the HORSE as an important part of New York State and show the need for trails. Horses actually rode up the steps of the capital building. Riders joined the ride along the way and it took four days. It made a lasting impression on Albany like no other event ever did. It is still talked about today.
About Mary Ann Grammer Byers, N.Y.S.H.C. Historian:
Mary Ann started riding at age eight at the Saddle and Bridle Club in Buffalo. She went on to breed and show American Saddle Bred horses. She was an active 4-H leader in Copake Falls, New York for twenty-five years and owned and raced horses at Fort Erie, Ontario, Canada. Mary Ann trained her horses to drive and showed in carriage driving shows. She has been a Premier Director of the NYSHC Board of Directors for decades in the Western Region and serves as the Secretary of the East Aurora Driving Society Horseshow.
A Legacy of Accomplishment
Since 1966, the NYSHC has been a tireless advocate for horses and horse people in New York State. Here are a few of the accomplishments we've acheived on your behalf ... we hope you'll join us as we continue to collective advocate in one, unified voice for the horse industry!
- Horse boarding declared an agricultural pursuit which facilitates tax advantages.
- Indoor arenas recognized as farm buildings for the application of the ten year farm building tax exemption rule.
- Waiver of income and number of horses for startup boarding farms to qualify for agricultural tax exemption.
- Inclusion of boarding income in federal gross farm income for farmer's school tax rebate.
- Reutilization of race horses commission.
- Authorization of towns and municipalities to develop farmland protection plans
- Seven acres for agriculture assessment which reduced the size of parcels for land use in agriculture from ten acres.
- Elimination of county legislative body approval for designation of certain horse boarding operations as land used for agriculture production.
- First state to have a helmet law requiring children and beginning riders to wear helmets.
- Law limiting landowner liability for equestrian usage.
- Horse recognized as an agricultural animal versus a companion animal.
- Law mandating humane transport of horses to one tier trailers and increased the fine level on in-humane equine transportation in 2001. Defeated a transport to slaughter bill in 2000 which was not considered by the industry as being beneficial.
- Expansion of NY Trail System.
- Support of Cornell's Diagnostic Lab and Equine Facility.
- Standardized Road Signs.
- Requirement for Equine Rabies Vaccination for State Fairground Events.