Revaluating the Riding Crop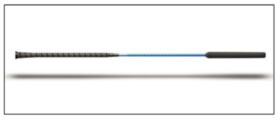 By Ram'n Dominguez
While it's an important piece of your equipment, you may not think much about your riding crop. Perhaps you've always used one, whatever model was lying around the barn. Perhaps your discipline requires a certain type. Perhaps you don't use one at all.
Over the years, I've spent a lot of time thinking about riding crops. During my days as a jockey, I almost always carried one. In fact, I can think of only two instances in which I rode without a crop, and I competed in more than 21,000 races. For most of my career, I thought about ways that I could improve the crop to make it more useful for the rider and gentler on the horse.
After years of tinkering, I finally developed the kind of riding crop I always wanted.
The 360 GT (GT stands for "gentle touch") is topped by a foam cylinder. The cylinder is crafted from a single piece of foam, so it has no binding to create hard edges. The material is strong - your horse will feel it - but it won't sting.
The foam popper also creates a sound on impact that serves as additional encouragement.
The material we use is water, sun, and chemical resistant, so it can stand up to use in any conditions you may encounter.
My goal was to create a riding crop that would benefit all riders and all horses and help change a commonly held perception that a whip is only used for punishment. With the 360 GT, I believe that I have. For more information, please send us an email at info@rydersup.com.