Newsletter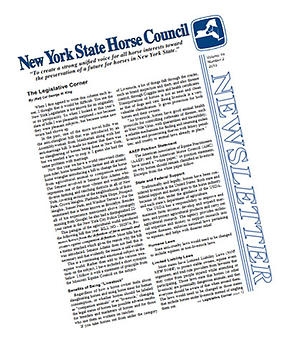 Membership in the New York State Horse Council means that youíll receive our quarterly Newsletter as itís published. This informative publications is filled with great stories, features, and upcoming event listings that you can really use!
Newsletter deadline submission on/or before:
December 1st for January Newsletter
March 1st for April Newsletter
June 1st for July Newsletter
August 1st for September Newsletter
DOWNLOAD
a complimentary copy today and start enjoying all the benefits!
The full print version of the current Newsletter (and previous editions) is available to NYSHC members in the Members Area on the web site (www.nyshc.org). NYSHC Members may request their user name and password for access to the Member Area by emailing: membership@nyshc.org
If you have a story, event, or want to pitch us an idea ... feel free to reach out:
Mary Szarek
Email: info@wnyHorse.info
Phone: 716-837-3761