Newsletter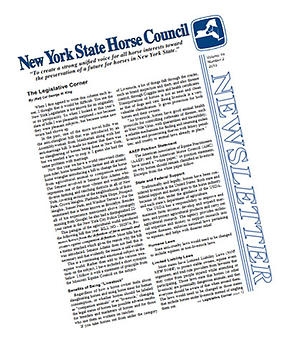 Newsletter2017_04.pdf
Newsletter2017_07.pdf
Newsletter2017_10.pdf
Newsletter2018_01.pdf
Newsletter2018_07.pdf
Newsletter2019_05.pdf
The New York State Horse Council Newsletter is a great way to get the word out about equine activities and initiatives. To make it successful and useful to all, the Newsletter Editor needs your input and is excited to share articles and pictures from all of our members.

Please E-mail word documents and any j-peg photos for upcoming newsletters to the Newsletter Editor:
Barb Cunningham
If you have questions, please phone: 716-735-3529.
- Issue 1 - January, February and March.
- Issue 2 - April, May, and June
- Issue 3 - July, August, and September
- Issue 4 - October, November and December
BELOW ARE THE DEADLINES FOR EACH ISSUE
- Issue 1 - Deadline is November 15th
- Issue 2 - Deadline is February 15th.
- Issue 3 - Deadline is May 15th.
- Issue 4 - Deadline isAugust 15th.
As well as being e-mailed or sent via postal mail to all members, each newsletter is also posted above.