Membership


Please note. Publication error in the NYSHC Autumn 2017 Newsletter (pg. 13). 2018 MEMBERSHIPS Applications will be announced mid-November/December, until then 2017 MEMBERSHIP Applications are still be accepted. Thank you!
Membership News Corner (click on links below)
Did you know that joining or renewing New York State Horse Council (NYSHC) membership supports our mission to create a strong unified voice for all interests toward the preservation of a future for all equines in New York State? We represent all breeds and disciplines working tirelessly throughout the year to support owners, riders, drivers and the well-being of our equines.
NEW YORK STATE HORSE COUNCIL MEMBERSHIP BENEFITS
·

Attendance to New York State Horse Council Meetings
·

A voice in Albany and updates on legislation which effects the equine industry
·

Business / Organization Membership listed (web linked) in the NYSHC.ORG Business Directory and in the Quarterly NYSHC Quarterly Newsletter.
·

Confirmation Letter, Membership Card and assigned access to NYSHC Website Member Area i.e. Newsletters, Meeting Minutes, Policies, NY Horse Magazine online and more
·

Discounts at NYSHC sponsored clinics, events. NYSHC Events or Clinic discounts or eligibility for the Ride and Drive Program are only available if you are an active Individual, Family or Lifetime Member.
·

Eligibility to participate in the NYSHC Ride and Drive program
·

Eligibility for $1,000.00 NYSHC Youth Member Scholarship towards attending a collegiate horse related program or a professional certification program (Parelli, John Lyons, farrier, etc.)
·

Individual or Family Insurance Membership are provided Certificate of Equisure's Excess Personal Liability $1,000,000.00 Insurance w/specified membership
·

Quarterly NYSHC Newsletter full of equine related information and upcoming events
·

Subscription to MANE STREAM News


BUSINESS DIRECTORY. We now list your Business, Organization or Club by Category or by name in Alphabetical Order. Your listing is downloaded immediately once joined or renewed and payment is received. Here is the link to the current Business Directory by
CATEGORY
and
ALPHABETICAL ORDER
so you can take a look!
2017 NYSHC Memberships are now being processed. Please allow 4-6 weeks delivery for your Membership Confirmation(s) via postal mail.
Delivery will be based on the month submitted i.e. (Sept 13th* thru Dec. 31st) (Jan 1st-31st) (Feb 1st-28th) and so on. *Special offers @events
Click here for > Online 2017 Membership


Once you've completed the online Membership Form, print a copy for your records, submit the form by clicking the SUBMIT button. Once you submitted the online Membership Form, choose either Pay Pal or Check. If you chose Check, be sure to make

check payable to New York State Horse Council and send via postal mail along (reference 2017 Membership) w/ check to

Paula Pratt, NYSHC Membership Chair, 3555 Stetson Road, Bloomfield, NY 14469
Do you still prefer to join or renew the Membership Form the "old fashioned" way? Click here for >
PDF MEMBERSHIP FORM
Print the Membership Form, complete all fields & print clearly, print the Membership Form and one for your records, write a check payable to New York State Horse Council, postal Mail to Paula Pratt, NYSHC Membership Chair, 3555 Stetson Road, Bloomfield, NY 14469.
NYS HORSE COUNCIL CHAPTERS ...visit sites for more details and chapter news
Cattchau Chapter: Cattaraugus/Chautauqua County Chapter located in the Western Region.
Orange County Chapter: Orange County and located in Mid Hudson Region.
Putnam County Chapter: Putnam County and located in Mid Hudson Region.
Sullivan County Chapter: Sullivan County (NOT ULSTER COUNTY) and located in Mid Hudson Region.
Ulster County Chapter: Ulster County and located in Mid Hudson Region.
Westchester County Chapter: Westchester County and located in Mid Hudson Region.
Western Chapter: Erie and Niagara Counties and located in the Western Region.
Regions 1. Southeast (New York City, Long Island) 2. Mid-Hudson 3. Capital 4. Northern 5. Central 6. Southern Tier 7. Fingerlakes 8. Western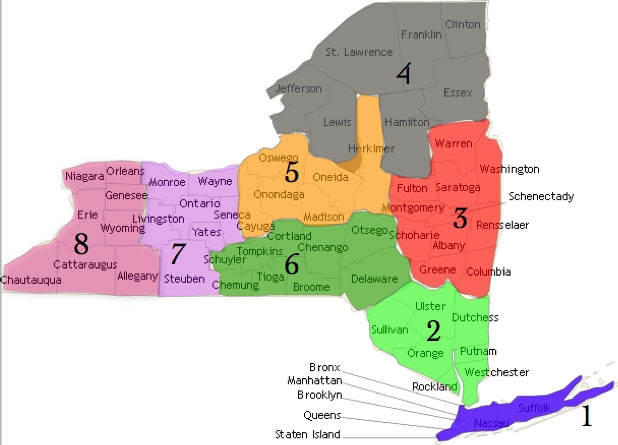 DOWNLOAD
our informative brochure for more details and benefits, including insurance.
Your membership with the NYSHC entitles you to special savings that the American Horse Council has negotiated for products used for your equine farm, business or personal use.
EQUISURE INSURANCE
One of the Membership Benefit includes Equisure $1,000,000.00 Excess Equine Personal Liability Insurance through Association Resource Group and we offer three choices of Membership that include this insurance.
(1) Individual with Insurance $55.00
(2) Family Membership with Insurance @$75.00 (Two adults - includes you, your resident spouse (significant other) and your children under 18 years of age > A
t age 18 the child needs to become an individual member on their own)
(3) Lifetime with Insurance $500.00 (individual only) 1st year & subsequent years $20.00 renewal to retain the insurance
Equisure Insurance
All Excess Personal Liability policies become effective during Calendar Year from the date rec'd by date/payment processed/sufficient funds.
Dec 1st thru Dec 31st (becomes effective January 01, 2017 (rec'd on/or before 1/7/17)* 12 Months Coverage
Jan 1st thru Jan 31st becomes effective February 01, 2017 (rec'd on/or before 2/4/17)* 11 Months Coverage
Feb 1st thru Feb 28th effective March 01, 2017 (rec'd on/or before 3/4/17)* 10 Months Coverage
* Rec'd by date/payment processed/sufficient funds
If you have questions about the NYSHC insurance through Equisure/Association Resource Group, please contact Missy Whittington at (716) 655-2045 or e-mail @ Missy.Whittington@NYSHC.org